Never Bullshit the Client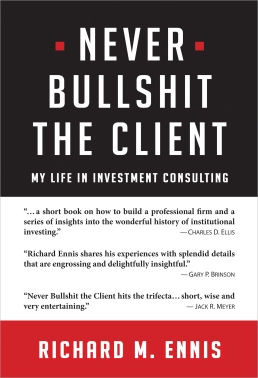 My Life in Investment Consulting
Published by Carom Press
Never Bullshit the Client tells the story of an innovator, entrepreneur, respected consultant, award-winning author and journal editor.
Richard Ennis was a slow starter, though.
He begins his memoir by recounting his "misspent youth," when he had little interest in school and spent much of his time hot rodding and frequenting Harry's poolroom.
He gained a sense of direction only in the latter years of college and in graduate school, when he developed an interest in finance theory. That is when he initiated a quest for what he describes as a "profound" understanding of investment.
Ennis began his career in money management 50 years ago. It was the era of go-go mutual funds and sacred growth stocks. He offers an engaging account of his years as a securities analyst and money manager. His interest turned to consulting when it seemed to offer greater purpose.
This memoir:
Relates the author's pioneering work among the quants

Describes his role in helping create the field of investment consulting

Tells the inside story of a premier firm in that field, EnnisKnupp
Filled with entertaining tales of people, organizations and events, the book also provides insight into a man for whom loyalty, ethical conduct and empathy are indispensable in both life and the world of business.

Click here to read an excerpt of Never Bullshit the Client.
Hardcover; Paperback; Ebook | 978-1733207225 | September 17, 2019